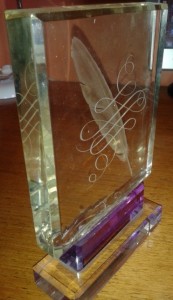 Even if I usually say to clients, rather disingenuously, that doing good work for them is all that matters, no writer or editor ever regrets receiving an award – me included!
But when you have a few cluttering up a shelf, all they do is get dusty – even though dust, as I am regularly reminded, is something that seems to completely escape my attention….
(My wife would much rather I came through the door from a golf event with a bottle of wine for longest drive, say, than ever winning a trophy.)
So much handier to get printed awards – even if you've framed them, you can always stick the originals in a drawer once they get in the way or too dated.
So I have to confess I have just thrown away one of my first professional awards, from 30 years ago, when at least one media body still saw no problem in using a quill – yes, a quill – as a symbol of communications!
The thing is, it was (yes, past tense now) a beautiful thing – a mighty heavy, cut glass creation that refracted the sunlight through the office window into rainbows of colour.
I won it for creating a series of media and events, an annual prize for particular achievement nationally which ceased to be awarded the following year, so I got to keep it.
As my electronic typewriter (history lesson here, folks!) was replaced by a computer network terminal and then one of the first of a series of PCs and then laptops, the quill engraved in the glass felt ever more out of place.
But the sheer weight and look of it, and the rainbows announcing a sunny day, always made up for the occasional need to superglue the base as its original bonding dried out enough to become detached.
Until this week, that is. The latest detachment just got the better of me, sentiment has given way to sense, and I guess I'll just have to look out the window more to appreciate the sunshine.