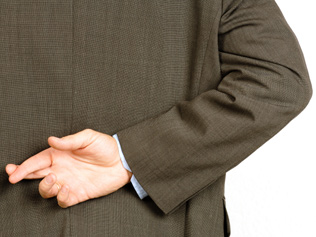 When everyone in the world has a voice these days, not just the politicians and the famous, it's hard sometimes to pick out what's actually "Truth"…apart from a rather good album by Jeff Beck.
We're all givers and receivers of information, so if you are going to make a name for what you say, it had better be worthwhile and honest. We can still blow our own trumpet if we want, but porkies are out – period.
40 years ago, the Watergate scandal lifted the lid on a now very public political deception – and proved a huge catalyst in our adopting a more challenging attitude to politicians. Though it's taken the Italians a long time to move on from their weak spot for Silvio…
Strangely, Richard Nixon's right-hand man H.R Haldeman showed in a taped conversation with the President over Watergate that he knew exactly where anything less than the truth would ultimately lead:
"To the ordinary guy, all this is a bunch of gobbledygook. But out of the gobbledygook comes a very clear thing: you can't trust the government; you can't believe what they say; and you can't rely on their judgment."
And still Nixon went ahead and said in his TV broadcast: "… I welcome this kind of examination because people have got to know whether or not their President is a crook. Well, I'm not a crook."
We're told by a recent BBC programme on Watergate that the one good thing about the whole affair was that it happened in America. In countries with less openness and accountability, including the UK, the truth might never have come out.
With that thought to worry you, maybe, I'll close with a couple of what we see a lot more of, thankfully – politicians simply keen to make the right impression but clearly stuck for something to say.
First, John Prescott (sorry, Lord Prescott): "My position is that I want to make our position clear. The example in Germany is just one example, for example…"
And then our old favourite, George W. Bush: "I know what I believe. I will continue to articulate what I believe and what I believe — I believe what I believe is right."